Working-Class Officer - Grace Fisher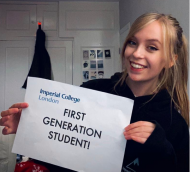 icu-working-class@imperial.ac.uk
"My name is Grace Fisher and I'm the Working-Class officer, where I oversee the Working-Class Network and our committee. I grew up in rural Cambridgeshire in a village with low rates of both local income and progression to higher education. I'm a First-Generation student meaning that neither of my parents went to university; one is a teaching assistant at a local primary school and the other a school chef. I worked tirelessly academically alongside part-time jobs to get the grades I needed to get into Imperial. I've always wanted to be a doctor but having struggled with a severe mental illness I decided I wasn't in the right place to take a medical degree straight away, and that Biology was the degree for me (I'm now applying to graduate medicine!). From A-Levels all the way to Imperial I've struggled with severe Imposter syndrome, however where I used to let it rule my life its now better tamed through the help of the Imperial Mental Health Services. My family have also struggled financially, so getting a bursary from Imperial meant that I could afford to live in London and pursue my degree.
Coming from a disadvantaged background, I'm passionate about making sure Working-Class and First-Generation students have the best footing and support when applying to and when they are at university. That's why I've held the position of Working-Class officer for two years in a row, helping to build the new network into a strong community. I'm proud of my Working-Class, First-Generation identity; through the network, I hope to help others feel the same way''
Community and Engagement Officer - Jordan 
I'm Jordan and I'm a second year MBBS student from the North of England. My role this year will be Working Class Community Engagement Officer – this basically means I will work on creating a sense of community among those of us who are first gen students or from a working-class background. My aim is not to simply support the growth of working-class students at Imperial, but to change the demographic at Imperial and at the top of students' respective fields of study.
Remember that we ALL earned our place at Imperial and each of us has an equal right to be here!
Campaigns Officer - Haseeb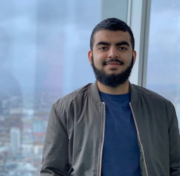 Hello everyone, my name is Haseeb and I am a 5th Year Medic from Crawley. I am the current Campaigns Officer and will hopefully work with rest of the committee to set up some exciting projects! One of the biggest obstacles to applying to both University and medical school in particular was not knowing how to navigate the various different stages of applying. I always felt as if I was starting one position behind everyone else and had to put in extra effort to achieve the same goal. It is important that during our time at University we are able to relate to others who may be in the same boat and facing the same challenges, be they emotional or financial.