If you're looking to increase your employability, make improvements to your course and get to know everyone in your department, becoming an Academic Representative is the job for you! This is a fun, flexible role that allows you to have a real impact on your course or research group. As a Rep you will be given full training as well as on-going support throughout your time in the role. There are roles for both Undergraduate and Postgraduate students in each year of study, meaning anyone can (and should!) get involved.
" Very often improvements are made straight away, which I find extremely rewarding." 
Ka Ki Kitty Chow, MSc Course Rep 2013/14
What's involved?
The main role of a Representative is to collect feedback from students and alert university staff to any issues affecting their academic experience. They attend a number of meetings with staff throughout the year, and play a key role in the Union's campaigns (particularly Rep Week, the Representation Conference and the Student Academic Choice awards). Academic representatives work to maintain and improve academic standards.
Testimonials
Read our Academic Representatives testimonials to find out what being an academic representative is really like.
How much time will it take?
There are a number of different positions available within the academic representation network, each with different levels of responsibility and time-demands.
Undergraduate Year Reps are expected to work around 1 hour a week (term-time only). More senior positions such Academic Affairs Officers work between 2-3 hours a week, with some contact possible during vacations.
Postgraduate Course/Group representatives are expected to work around 1 hour a week. More senior positions work between 1-2 hours a week, depending on their personal commitment to the role.
What's in it for me?
Increase your employability 
Reps gain a whole host of 'soft' skills in high demand from employers including organisation, leadership, negotiation, meeting experience and team-working. You'll be able to provide concrete examples of your attributes for applications and interviews. Students interested in a career in academia can also gain an invaluable insight into Higher Education institutions. Students interested in a career in academia can also gain an invaluable insight into Higher Education institutions.
Reps are also eligible for the Union's Imperial Plus scheme, designed to acknowledge the time spent within their role and the skills developed.
"I've got to know many students and staff in my department." Freddie, Departmental Representative (Dep Rep)
  Network & Socialise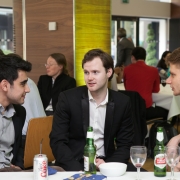 Being a Rep is a fantastic opportunity to get to know fellow students and staff within your course, research area, department or faculty. Throughout the year there'll be numerous opportunities to network and socialise. Social opportunities include our SACAs awards ceremony, the Rep Conference, training and regular meetings, and a special thank you session hosted by the College's Vice-Provost (Education).
Make an impact
The feedback gained from students and passed through the Rep Network has a real impact on the content of courses, the teaching methods used and much more! Thanks to student volunteers we're able to identify where improvements can be made and recognise which aspects of a course students enjoy the most. If you're passionate about your subject, or simply want academia to be more democratic, then get involved and become a representative!
Be recognised 
College really values the work of Reps. Reps can be nominated to receive a President's award, a Union award or Colours from their Constituent Union.
I'm interested. What should I do now?
For more information about which role in the Rep Network would suit you best, consult our handy guide. Here we've created a summary of typical duties and responsibilities to give you an insight into what our representatives do.
Recruitment for Undergraduate Year Reps, Postgraduate Course/Group Reps and GSU Academic & Welfare Officers will take place in October. You will find more details closer to the time via the Homepage of this website.
If you have any questions, please contact: