All Emerging Leaders and Imperial Award workshops are delivered by our great team of Student Trainers. We believe that peer-to-peer learning is one of the best ways that you can learn invaluable skills and share your experiences with other students.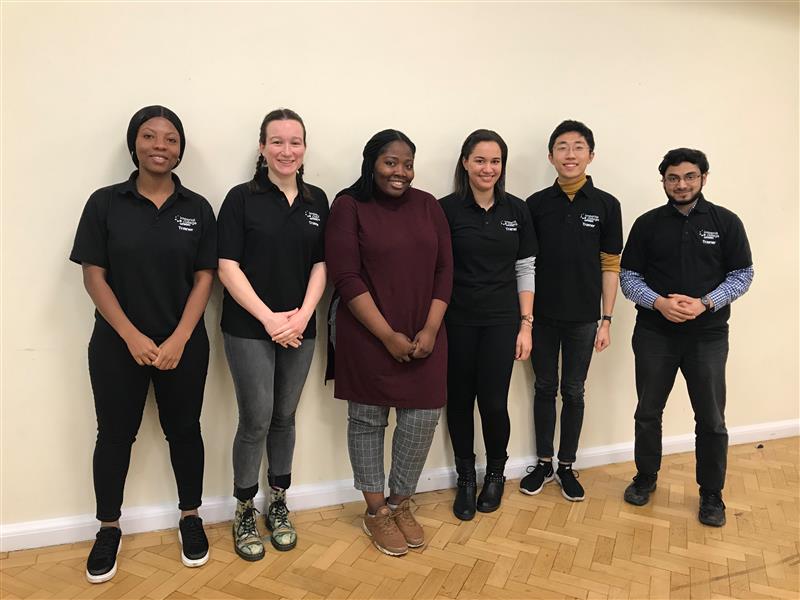 All our Student Trainers complete our development programme, including train the trainer courses, observations and one-to-one coaching sessions. Here is what our Student Trainers say about the experience:
"This opportunity has given me a great environment to develop as a trainer and helped me feel more confident for the future teaching. I'm delivering my first session to a group of over 100 people later this semester and I am still terrified but I am much more prepared than I could have ever been without having been a Student Trainer." (Lisa, Student Trainer 2018-19)                                                                                                                                                                                                                        
"Hosting workshops has really allowed me to grow in confidence as a speaker and work professionally with my peers. Having taught only younger kids before, this job as given me a lot of exposure in communicating knowledge with older students. The train the trainer sessions have prepared me to think methodically and to stay in control when things do not go as planned. The peer observation sessions and workshops have also allowed me to think critically, yet constructively, of myself and others." (Varalika, Student Trainer 2018-19)

 
Abena Kufuor
Emerging Leaders: Exploring Leadership, Creating Effective Teams 
I'm Abena and I took the role of a student trainer as I have some years of experience in various teaching roles and I wanted to give back to the Imperial community whilst learning and improving my skills along the way. In my spare time I rap and produce music. 
Ayomide Ayorinde
Emerging Leaders: Emotional Intelligence and Developing Projects 
My name is Ayomide and I am a 5th year Medical Student. I am also one of the facilitators for student training this year. I chose to get involved in student training because I feel like it is such an important part of student life and experience at University. I look forward to meeting you all! 
Milia Hasbani 
Officer Academy                
Hi everyone! I'm a second year PhD student in the Department of Bioengineering. I also did my undergrd here and throughout my time at Imperial I have been heavily involved with the Union.
I've held multiple positions, including CGCU President in 2016/17 and currently GSU Vice President (Representation). I hope that through leading these training workshops I can share some of my personal
experiences with you to help you navigate through your time as an officer. 
Meghan Walker
Emerging Leaders: Leading with Inclusivity, Emotional Intelligence,
Resolving Conflict
I'm Meghan, a final year biomedical engineering student. Fun fact: I am a ballet teacher! I have been teaching and tutoring since my early teens and am looking forward to continuing this with some interesting discussions. See you at the workshops!
Ray Junzheng Wang
Emerging Leaders: Developing Projects, Creating Social Change 
I'm Ray, a fourth-year medic intercalating in Global Health, with interests in healthcare policy, public health and epidemiology. I have been a lead tutor for Imperial's Pimlico Connections project to deliver STEM tutoring in local secondary schools, and I am very much looking forward to delivering some of this year's Emerging Leaders workshops here at the Union.
Ellen Player
Emerging Leaders: Leading with Inclusivity, Exploring Leadership 
I'm Ellen, a Chemical Engineering Student and you will see me teaching Exploring Leadership workshops amongst other things. I have lots of experience in teaching groups and also have an ILM Level 3 in Leadership and Management, so you are in safe hands.