All Imperial Plus and Imperial Award workshops are delivered by our great team of Student Trainers. We believe that peer-to-peer learning is one of the best ways that you can learn invaluable skills and share your experiences with other students.
All our Student Trainers complete our development programme, including train the trainer courses, observations and one-to-one coaching sessions. Here is what our Student Trainers say about the experience:
"Imperial Plus has given me a great environment to develop as a trainer and helped me feel more confident for the future teaching. I'm delivering my first session to a group of over 100 people later this semester and I am still terrified but I am much more prepared than I could have ever been without having been a Student Trainer." (Lisa, Student Trainer 2018-19)                                                                                                                                                                                                                        
"Hosting workshops for Imperial Plus has really allowed me to grow in confidence as a speaker and work professionally with my peers. Having taught only younger kids before, this job as given me a lot of exposure in communicating knowledge with older students. The train the trainer sessions have prepared me to think methodically and to stay in control when things do not go as planned. The peer observation sessions and workshops have also allowed me to think critically, yet constructively, of myself and others." (Varalika, Student Trainer 2018-19)

 
If you would like to work as Student Trainer in the next academic year please visit our 
recruitment page
.
Applications are now open!
If you have any questions about the role you can get in touch with a member of the Student Development team at imperialplus@imperial.ac.uk.
Kapil Agarwal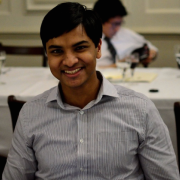 Imperial Plus: Project Management and Exploring Leadership
I'm Kapil and I'm in my fifth year of studying medicine. I've been involved with Imperial Plus since my second year at university, firstly as a student enrolled on the programme, and now as a student trainer for the past couple of years. I found the Imperial Plus scheme a great way to meet new people outside of my course, but also a good means of getting recognition for the voluntary work that I was doing with the clubs and societies I am involved in. I feel the workshops offered are a fantastic opportunity for students to develop their transferable skills and prepare for life beyond university.
I enjoy helping others to fulfil their potential and do this through my work as an Imperial Plus trainer and Imperial Outreach mentor. During my free time I often help to provide first aid cover at major events such as Wembley and Lord's, but also enjoy taking part in sports, particularly cricket. The Imperial Plus programme has a lot to offer and I would encourage anyone interested to sign up and get stuck in!
Varalika Jain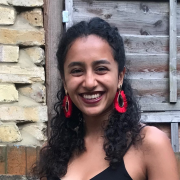 Imperial Plus: Emotional Intelligence and Effective Communication
I'm Varalika and I'm in my third year of studying Biology. My passion to teach, share ideas and opinions, and to inspire growth in leadership skills is why I applied to be a student peer trainer. I was the Academic Representative for my course last year, and I am taking on the role as the Secretary in the IC Mountaineering Club this year. Outside of university, you'll find me tutoring students, dancing, rock climbing and working at the union bar!
Aisha Chaudry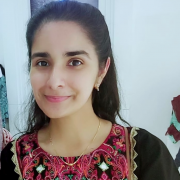 Imperial Plus: Emotional Intelligence and Effective Communication
My names Aisha, currently a 4th year medic intercalating at Imperial College Business School. I became interested in the role as a student trainer two years back after attending the Imperial Plus workshop. Since then I have thoroughly enjoyed teaching key skills as a student trainer through workshops on Emotional Intelligence and Effective Communication.
Outside of my role as a student trainer, I'm currently Welfare Chair at ICSM (Imperial College School of Medicine), which means I look out for the welfare needs of ICSM students by running relevant campaigns and the wellbeing network with the welfare team so do keep an eye out!
When I'm not doing my degree or working with the Union, I'll most likely be globe-trotting for an adventure, reading a book or more recently bullet journalling!
Marine Secchi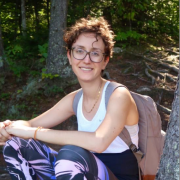 Imperial Award: Getting Started workshops
I'm Marine, a 3rd year Biologist back from a year in Industry. I love cells and spending hours in the lab but also the extra-curricular life at Imperial. In the past 2 years I have taken many fun opportunities and met incredible people, through DanceSoc, PhotoSoc, Esoc, the jailbreak challenge and FONS-MaD.
The IA helped me look at my experiences and skill set and pull it together. I think it's a fantastic learning opportunity and would encourage everyone to take part, I am hoping to share my enthusiasm about how Imperial can make you a conscious member of society and build your confidence.
Lisa Makarova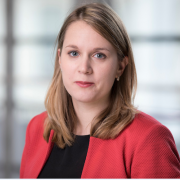 Imperial Plus: Building Resilience and Team Management
I'm Lisa, currently doing my PhD in Entrepreneurship at the Business School. Former start-up founder and employee myself, I am part of building the next generation of student entrepreneurs at Imperial by being the Lead mentor at the MBA Connect program. I also coach and advise (student) entrepreneurs in London. I plan to continue teaching and coaching entrepreneurs after my PhD and therefore am very glad to have an opportunity to teach as part of the Student Trainer team at the Union. I have three degrees in Business, which means I have done a fair share of skills workshops myself, and hope to pass the knowledge further.
I am also a strong believer in making a difference, which is why I am on the (Doctoral) Student Staff Committee as a Deputy Chair. I love international crowds, understand seven languages quite well and would always care to chat about startups/ innovation/ future. My soft spot when it comes to such talks is the future of Transportation & Smart Cities.
Ray Junzheng Wang
Imperial Plus: Project Management and Exploring Leadership
I'm Ray, a third-year medic, with interests in healthcare policy, public health and epidemiology. I have been a lead tutor for Imperial's Pimlico Connections project to deliver STEM tutoring in local secondary schools, and I am very much looking forward to delivering some of this year's Imperial Plus workshops here at the Union.
Outside of Imperial, I currently serve as an ambassador for #iWill, the national youth social action campaign, and maintains a strong interest in youth engagement and participation. Over the past five years, I have worked extensively with young people, student leaders and public and voluntary sector organisations in my home district of East Suffolk to develop and fund a plethora of projects and services, ranging from a nationally recognised programme to improve primary to secondary school transition, to a new social prescribing service covering six GP practices.
Urvi Karamchandani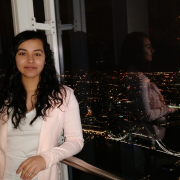 Imperial Plus: Building Resilience and Team Management
I'm Urvi, a 4th year medical student currently intercalating in a Pharmacology BSc. I have always been interested in education and as a result have been involved with teaching with many Medical societies.
I find the services provided by Imperial Plus take education to another level as it is aimed towards teaching people valuable life skills through interactive means and not merely through simple provision of content. This is why being a Student Trainer is so great!
Outside of academia, I enjoy practising various different martial arts including Karate, Kickboxing and Muay Thai. I am also currently working on completing my diving qualifications.