We are a recognised training provider, approved by the ILM (previously Institute of Leadership and Management) to deliver Endorsed and Development programmes in leadership and management.
ILM is the benchmark of high quality for bespoke in-house leadership development training and the largest UK qualification body for management, leadership, coaching and enterprise.  For the design of Emerging Leaders, our programme and trainers have undergone rigorous quality evaluation and demonstrated an integrated approach in linking content, aims and learning outcomes in a way that enhances the knowledge and skills of the participants.
This means you can rest assured that you will receive a top-quality educational experience, obtain a good investment for your time as well as experiencing an engaging learning opportunity, informed by the most innovative pedagogical approaches. 
How do you complete the programme? 
You will complete the programme and receive official recognition from ICU and/or ILM once you have:  
participated in four or more modules, at least one from each quadrant/value - two in total can be Events, and  
completed the final reflective practice for each chosen module.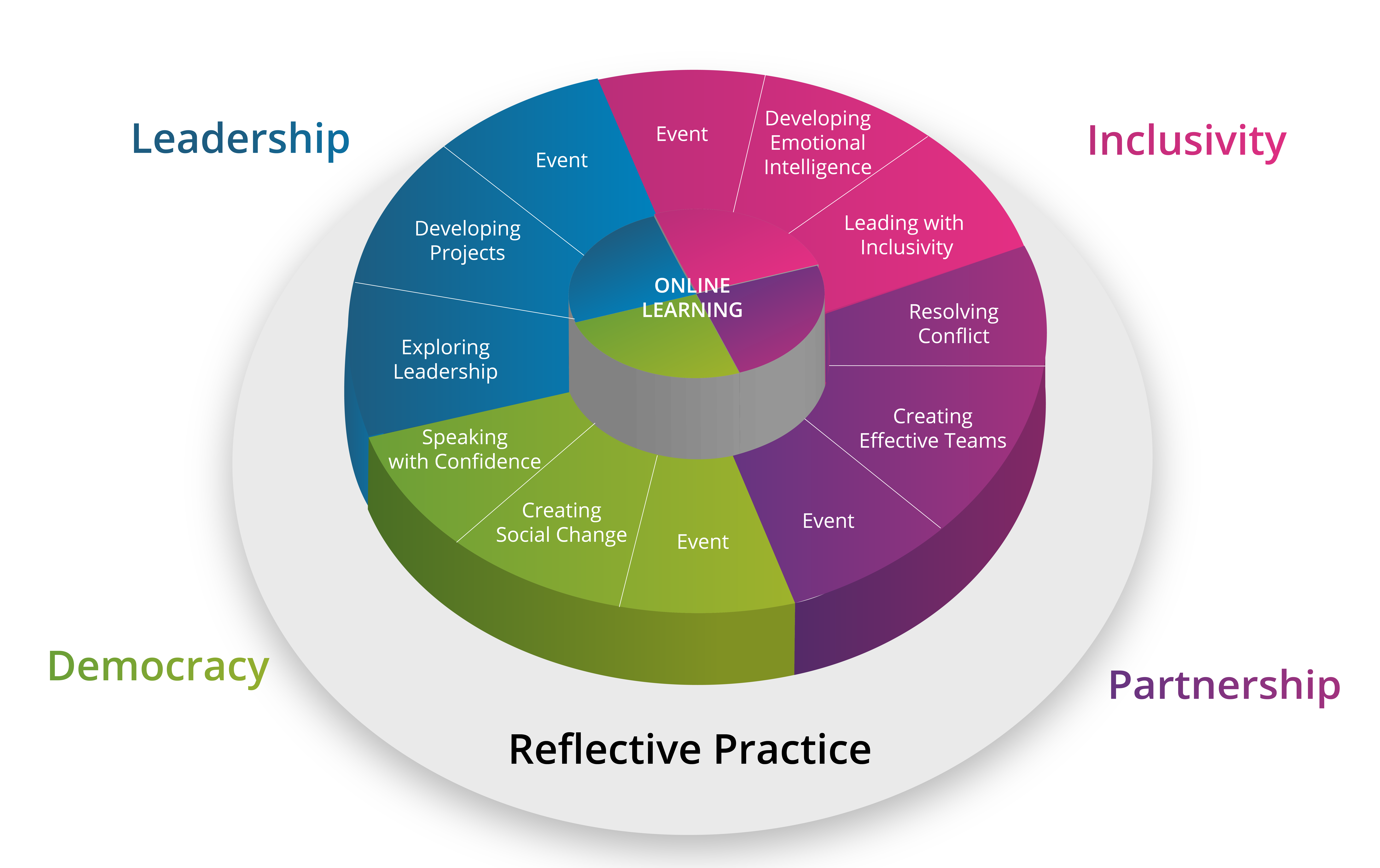 Reflective Practice
Leadership
Exploring Leadership
Developing Projects
Event
Inclusivity
Event
Developing Emotional Intelligence
Leading with Inclusivity
Partnership
Resolving Conflict
Creating Effective Teams
Event
Democracy
Event
Creating Social Change
Speaking with Confidence
A module is considered completed if includes: 
your chosen face to face workshop or event (2 hours)
complementary online learning (approx. 30 minutes)
final reflective practice (approx. 5 hours, including feedback)
This means that as part of each face-to-face activity that you choose to attend (workshop or event), you will engage in additional online learning (max 30 minutes activity) and post-event reflective practice, that you can develop on your own time through our interactive platform Sway (which you have access to as part of your Imperial Office 365 account).  
Please note: This process is only relevant to you if you are interested in completing the programme, receive individual support and gain official recognition. If you are only interested in attending our workshops and events, then you do not have to do any additional work.  
How do you obtain recognition? 
Once you have completed the programme, you can request a final certificate recognising the skills you have developed, if you wish to do so. You can choose to receive your completion certificate in one of these formats:  
A completion certificate from ICU, free of charge, signed by the ICU President and sent to you in pdf format, via email; or 
A completion certificate issued by the ILM, which will incur a fee of 50£ and will be printed and available for you to collect from the ICU reception.  
If you have completed your programme and you are ready to claim your final certification, let us know by filling in an online Completion and Recognition Form and we will send you details on how to proceed.  
Please note that you will only be able to request your completion certificate between 25 April and 15 June each year.