Emerging Leaders is our brand new development programme designed to help you develop essential skills for 21st century leadership
As our world and working environments become increasingly complex, global and diverse, it is more important than ever that you expand your repertoire of transferable skills to boost your career prospects and your ability to instigate positive change in the world around you. Emerging Leaders is your essential all-round training in leadership skills for the 21st century, that is a leadership model based on values of inclusivity, collaboration and democracy.
Emerging Leaders empowers you to create your own personal development journey. You can choose from our mix of face-to-face workshops, online learning opportunities and events, receive personalised feedback and obtain official recognition of your achievements by Imperial College Union and the ILM (Institute of Leadership and Management).
What will you gain?
Our innovative workshop and events will help you develop:
An authentic leadership style in tune with your professional context and values
A structured approach to initiating and managing projects, from idea to plan
Awareness of yourself and others, with practical strategies to make your work environment more diverse and inclusive
Your ability to work collaboratively and resolve conflicts in a positive manner
Your capabilities in creating positive change and communicating your messages with confidence
In addition, by registering to Emerging Leaders you will:
Receive Personalised Support

Develop awareness of your strengths and areas for further development through a multimedia reflective process and personalised feedback.

Engage in Learning at your own pace

With our mix of interactive workshops, themed public events and online content to choose from, you are in charge of your own developmental journey.

Gain Official Recognition

Be awarded a Certificate from the Union or the Institute of Leadership and Management to recognise your development.
What will you do?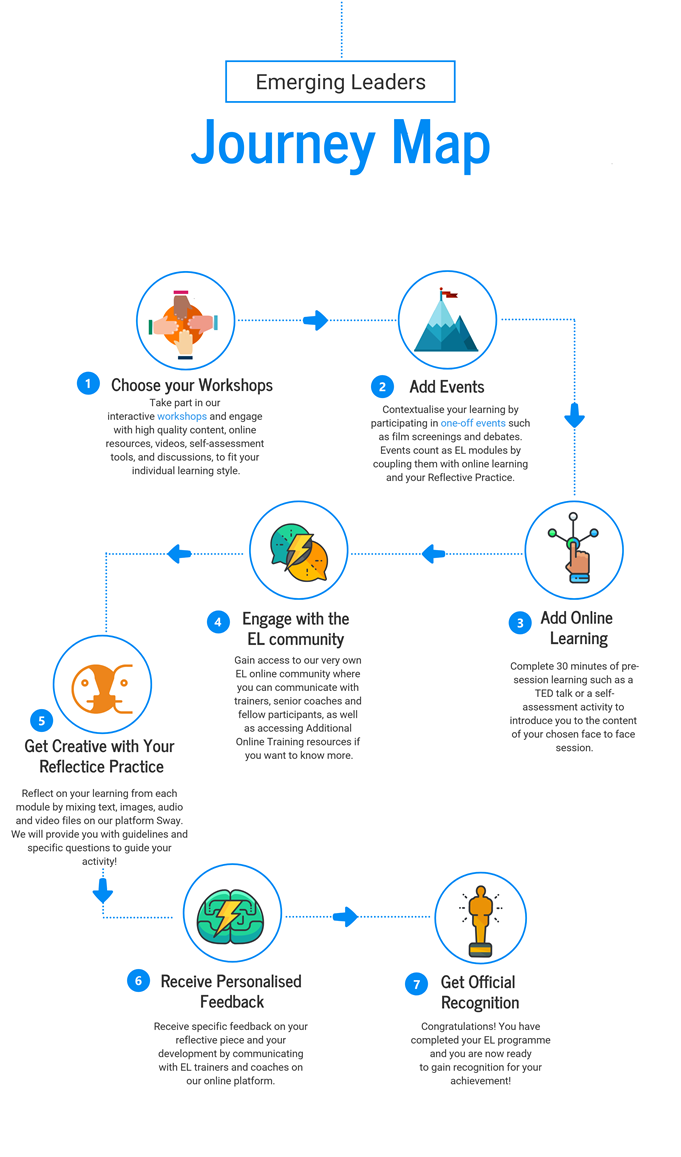 Emerging Leaders Journey Map
Choose your Workshops Take part in Our interactive workshops and engage with high quality content, online resources, videos, self-assessment tools, and discussions, to fit individual learning style.
Add Events Contextualise your learning by participating in one-off events such as film screenings and debates. Events count as EL modules by coupling them with online learning and Reflective Practice
Add Online Learning Complete 30 minutes of pre-session learning such as a TED talk a self-assessment activity to introduce to the Content of your chosen face to face session.
Engage with the EL community Gain access to our very own EL online community where you can communicate with trainers, senior coaches and fellow participants, as well as accessing additional Online Training resources if you want to know more.
Get Creative with Your Reflective Practice Reflect on our learning from each module by mixing text, images, and video files on our platform Sway. We will provide you with guidelines and specific questions to guide your activity!
Receive Personalised Feedback Receive specific feedback on your reflective piece and your development by communicating with EL trainers and coaches on online platform.
Get Official Recognition Congratulations! You have completed your EL programme and are now ready to gain recognition for your achievement!
Is Emerging Leaders for you?
Yes! if you care about your development and are looking for an engaging and flexible way to boost your soft skills while studying on your degree
Yes! If you are an UG or PG student looking to broaden your leadership profile to support you in your work or volunteer roles
Yes! if you want to refine your ability to influence and work with others in a collaborative and inclusive way and learn new tools to create positive change
How do you apply?
Individual workshops, events and online resources are free for all students at Imperial.
However, if you want to access Emerging Leaders online community and additional online resources, receive personalised feedback on your development and official recognition of your work on completion you will need to register.
Registering is super easy!
Fill in our online Registration Form and tell us about yourself. There is no deadline, you can register at any time during the year. Or if you want a taste, check our What's on Calendar and turn up to one of our next workshop or event!
If you have any questions you can write to us at leadershipdev@imperial.ac.uk