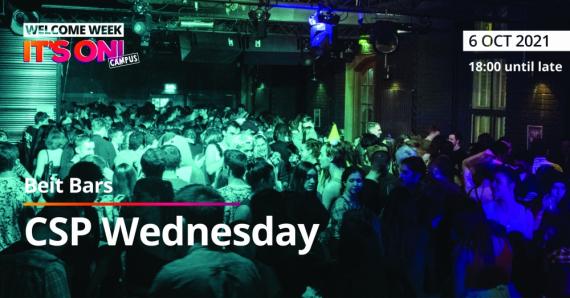 On Wednesday of Welcome week, we'll be keeping the party going with our CSP Wednesday event – the first of regular CSP Wednesdays to be hosted throughout the year across our campus bars! The first Wednesday of the year is set to be especially memorable though, as we'll be throwing you a UV PARTY – so get those glow sticks at the ready. There's also some very special guests to be added to the line-up too!! We'll have food and drink offers galore, including a free drink on arrival – and you'll soon find out why Wednesday night is a big deal here at Imperial! Our DJs will be spinning the ultimate chart, dance, house, RnB and hip-hop tunes well into the night, and we'll have photographers at the ready to capture the best moments!
Seller Information
This product is sold by the Imperial College Union commercial team or other staff team. For any enquiries relating to this product please contact Union Reception
Conditions apply
One or more conditions apply to this product or the selected option - you can only purchase this item if you meet all the conditions. Please ensure you are logged in to allow us to check.
Condition not checked, please log in:
Requires a membership of the Union.