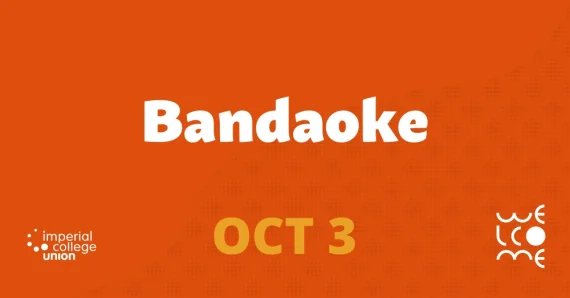 3rd October | Metric | 19:00
Got your Karaoke number down to a T? Well, it might be time for an upgrade… ICU presents to you: Bandaoke! 🎸🥁🤘
Yup, you've probably sussed it out… Think classic singalongs, think silly dance moves, think LIVE musicians 🎤 We're ditching the SingStar machine and giving you the opportunity to belt out your favourite karaoke classic with a professional band at Metric!
So whether you're a Dancing Queen or feeling Under Pressure, it's time to Shake It Off at the ICU Bandaoke – you're going to Wannabe there!
Read our Ticket T&C's here: https://www.imperialcollegeunion.org/sites/default/files/Welcome%202022%20Ticket%20T%26Cs.pdf
Seller Information
This product is sold by the Imperial College Union commercial team or other staff team. For any enquiries relating to this product please contact Union Reception
Conditions apply
One or more conditions apply to this product or the selected option - you can only purchase this item if you meet all the conditions. Please ensure you are logged in to allow us to check.
Condition not checked, please log in:
Requires a membership of the Union.
Condition not checked, please log in:
Maximum 1 purchase.
Condition not checked, please log in: