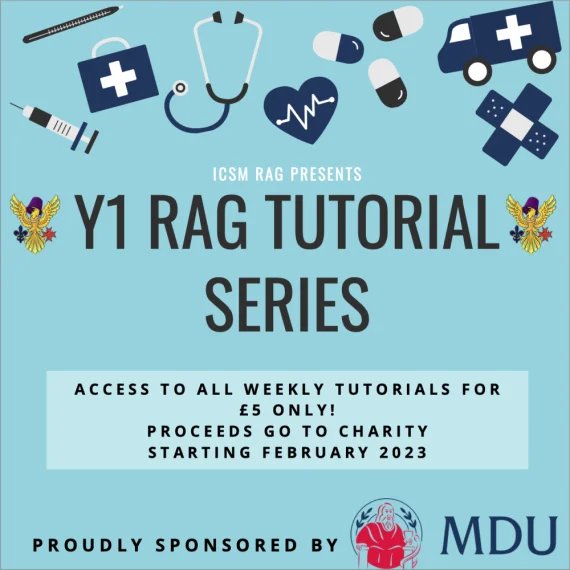 🚨 YEAR 1s! 🚨

ICSM RAG is back again with our highly successful RAG lecture series. This year we have a series of lectures lined up for you guys which are going to be delivered by prize winning older years. You really don't want to miss out! For only £5 pounds, you will have access to all 9 lectures. Once you have bought your membership, you will be added to a team channel where we will be running the tutorials every Monday from 6:30 to 7:30 starting on the 13th February. By purchasing our lectures, you will also be supporting our wonderful charities this year Mind UK and Refuge!

We start off the series with a high yield lecture on how to study for Y1 exams by Harry and Adhessdha. Harry is a double prize winner and Adhessdha is a dinstinction star student so they have both got invaluable tips and tricks to help you ace your exams! This is not a tutorial you want to miss! The lecture will be running this coming Monday - note that this lecture will run fro 6-7 instead of the normal 6:30-7:30!

Below is the timetable for the remaining lectures:
20/2 - Cardio
27/2 - Haem
6/3 - Neuro
13/3 - MSK
20/3 - Dev and Ageing
27/3 - ECG
3/4 - Endo
10/4 - Immuno
17/4 - GI


We look forward to seeing you guys there. Many thanks to the MDU for sponsoring for the lecture series this year!
Seller Information
This product is sold by a Club, Society, or Project. For further information about how this product is fulfilled or for any enquiries relating to this product please contact the relevant group or Union Reception
Conditions apply
One or more conditions apply to this product or the selected option - you can only purchase this item if you meet all the conditions. Please ensure you are logged in to allow us to check.
Condition not checked, please log in:
Condition not checked, please log in:
Maximum 1 purchase.