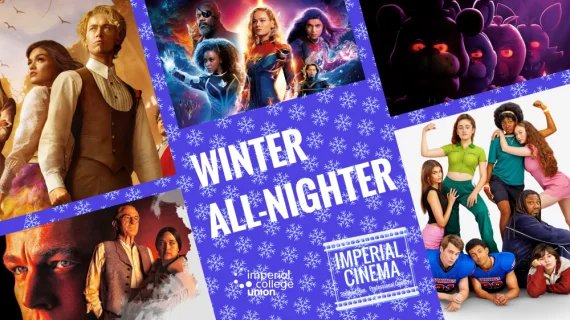 IMPERIAL CINEMA Winter All-Nighter
Get your ticket for our Winter All-Nighter. Come to the Union Concert Hall (2nd floor, Union Building) on the 9th of December from 7:00pm to 7:40am and enjoy our selection of 5 films for the entire night:

19:00, The Hunger Games: The Ballad of Songbirds & Snakes (2023) (12A)
"Years before he becomes the tyrannical president of Panem, 18-year-old Coriolanus Snow remains the last hope for his fading lineage. With the 10th annual Hunger Games fast approaching, the young Snow becomes alarmed when he's assigned to mentor Lucy Gray Baird from District 12." [rottentomatoes]
22:10, The Marvels (2023) (12)
"Carol Danvers aka Captain Marvel has reclaimed her identity from the tyrannical Kree and taken revenge on the Supreme Intelligence. But unintended consequences see Carol shouldering the burden of a destabilized universe. When her duties send her to an anomalous wormhole linked to a Kree revolutionary, her powers become entangled with that of Jersey City super-fan, Kamala Khan aka Ms. Marvel, and Carol's estranged niece, now S.A.B.E.R. astronaut Captain Monica Rambeau. Together, this unlikely trio must team-up and learn to work in concert to save the universe as "The Marvels." " [rottentomatoes]
00:10, Five Nights At Freddy's (2023) (15)
"The film follows a troubled security guard as he begins working at Freddy Fazbear's Pizza. While spending his first night on the job, he realizes the night shift at Freddy's won't be so easy to make it through. " [rottentomatoes]
02:20, Killers of the Flower Moon (2023) (15)
"Based on David Grann's broadly lauded best-selling book, "Killers of the Flower Moon" is set in 1920s Oklahoma and depicts the serial murder of members of the oil-wealthy Osage Nation, a string of brutal crimes that came to be known as the Reign of Terror. "[rottentomatoes ]
06:10, Bottoms (2023) (15)
BOTTOMS, a refreshingly unique raunchy comedy, focuses on two girls, PJ and Josie, who start a fight club as a way to lose their virginities to cheerleaders. Their bizarre plan works. The fight club gains traction and soon the most popular girls in school are beating each other up in the name of self-defense. But PJ and Josie find themselves in over their heads and in need of a way out before their plan is exposed. [rottentomatoes]

Buy a Food Ticket for £18 enjoy our hot food and drink buffet throughout the night: pot noodles, sandwiches, soup, crisps, pastries, unlimited tea, hot chocolate and coffee are your best friends to power through the night. Meat, veggie, vegan and gluten free options available.
All films with food: £18 (online) / £20 (on-the-door)
All films without food: £12 (online) / £15 (on-the-door)
Single film ticket: £4 (on-the-door)
Online sales end on the 9th of December at 3pm.
Seller Information
This product is sold by a Club, Society, or Project. For further information about how this product is fulfilled or for any enquiries relating to this product please contact the relevant group or Union Reception