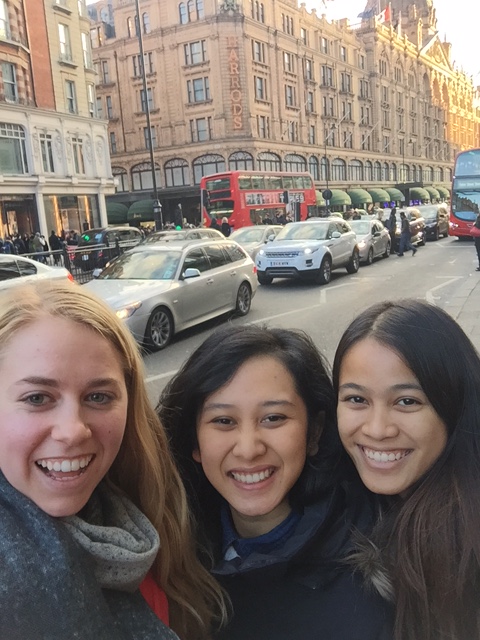 How did you identify the need you addressed through your enterprise?
At the programme Climate-KIC my teammates and I learned about many environmental related problems. Consequently, we found out that water scarcity is an issue, even in a company with such a high rainfall as the UK. Then during our master's degree we found out specific problems with the UK water supply and distribution industry and formulated our idea fully.
What steps did you take to develop your product?
The programme Althea at Imperial College helped us to develop the product. We had coaching sessions as well as business plan development sessions in order to help develop the ideas. We also contacted some knowledgeable people in order to get a better understanding of the technology.
In your opinion, why are Imperial students best placed to tackle global problems?
Imperial has a range of international students coming from different cultures and different backgrounds. For example, our team consists of two Indonesian students and one American student. This allows for a diverse approach to tackling problems, which can be a great benefit.
What was your experience of working with college?
Imperial offers some great opportunities for aspiring entrepreneurs, and also has many contacts that are successful in inspiring the students to succeed.
Who did you work with the get your idea off the ground?
Our team came together collectively to develop our idea and get a good understanding, but we also had the help of those involved in the Althea programme as well as a professor who had a business in the same industry.
What is your experience of building your enterprise alongside your studies?
Unfortunately our entire team was pursuing a master's degree. This took up a lot of our time. As our idea was related to many topics covered in our master's it did aid in the development of the idea; however, we struggled to raise enough funding to fully engage in the enterprise. I think bachelors and PhD students have a bit more time to do both studies and start an enterprise, but our situation did not allow for much spare time.
What challenges have you faced? How did you overcome them?
One of the big challenges was balancing our degrees with building up the enterprise. We managed to set aside time for weekly meetings in addition to the Althea programme, but unfortunately, when building an enterprise, it needs to be constantly on your mind.
What advice would you give to students looking to get involved in student enterprise whilst at university?
I think it should somehow correlate to either your studies, or something you are very passionate about. When forming a team to build an enterprise it is important to note the amount of time and effort involved in addition to the studies. If everyone is keen to sacrifice spare time, then I think you should definitely go ahead and try! It is also important to not be afraid of failure. Even failing has value and can help you succeed in other areas of your life.
What has been your biggest success / highlight?
We were thrilled to make it to the second round of Althea so that we could enjoy the full experience of the programme. This actually encouraged us to spend more time on our idea and enhance it so that it could become more tangible. In addition, when we won the social enterprise funding, we were very happy as it was considered a grave success!
How has the Union's funding made an impact on your project?
The funding allowed us to keep making our business more tangible. We were able to purchase a software and build up the design of our technology. This helped us really see what the business could be.
What are your plans for the future?
I am currently looking for jobs in the water industry. Working on this start-up has made me more passionate about the water industry and has made me want to make an impact in the field. The enterprise will still be a part-time activity that my team and I will work to develop, and the more we learn from being engineers in the field, the more our enterprise can become a reality.
What are your aspirations for your enterprise?
We hope that eventually the technology can advance and become a successful start-up in our home countries. The technology needs time to improve and develop, but once that is complete, we hope it can be an achievement! 
How has working on your enterprise enhanced your experience at Imperial? What will you take away from the experience?
It gave me insight on how a business works and specifically our idea helped me in my master's and allowed me to find out what kind of career I would like to have. I think it is a great way to get involved, meet more people, learn, and have fun!