Congratulations to all newly elected and returning Club, Society & Project Officers for 2017/18!
You are now one of 2,000+ volunteers who have stepped forward to improve the experience of students across Imperial and beyond. You play a big part in the Union and its success.
So, you've successfully secured your place on a committee, exams are over and Freshers' Fair is close but so far away. Now what…?
Enter the 2017 Officer Academy!
This year's Officer Academy will provide you with the tools and knowledge to run your Club, Society or Project well, while providing useful tips to help you plan your year.
The next Officer Academy will take place in spring 2018
When & Where?
Friday 29 September
Beit Quad
Registration from 9.00 AM
Workshops 10.00 - 15.00 PM
Optional social 15.10 PM onwards
Workshops on offer
Club Finance
Events Management & Space
Funding Opportunities
Officer Induction
Who is expected to attend?
All Club, Society & Project Officers
Management Group Exec
New & returning Officers
Why get involved?
"Very useful information at a very crucial time"
"Amazing. Very useful. I now have a clear idea how I can approach the Union for help on these issues"
"It was very useful and detailed enough without being overwhelming"
- 2016 attendees
"Cheerful, clear communication, relaxed & well-organised"
- June 2017 attendee
In addition, you'll be given:
Lunch
Tea & coffee
Drinks voucher
A fantastic induction day to get to know your fellow CSP Officers, build confidence and receive information on things you need to know plus hints & tips for success
Networking opportunities with Union staff and your Officer Trustees who you will be working with next year
1-2-1 advice from staff, specific to your Club, Society or Project
Timetable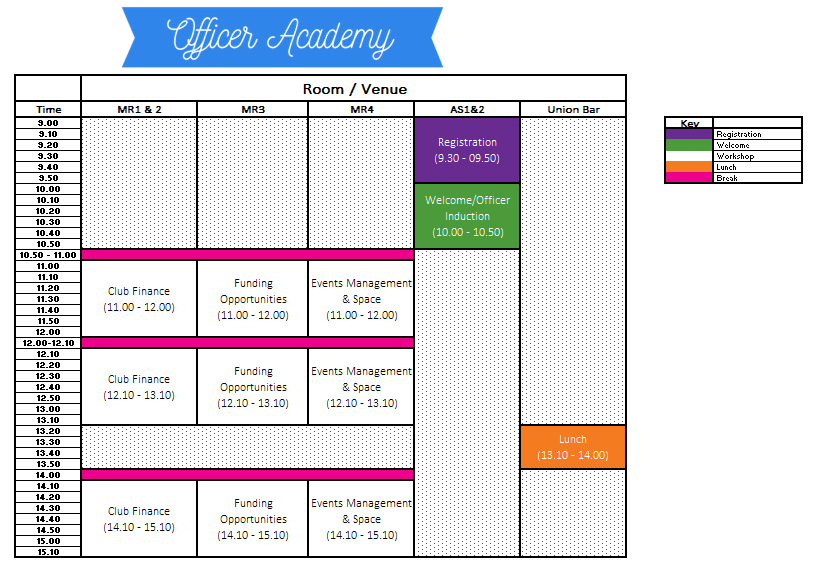 How do I sign up?:
Step 1: Complete the registration webform below
Please note: By signing up you are registering for the whole day; your workshop schedule will be allocated on the day.